Visit Sydney Harbour Islands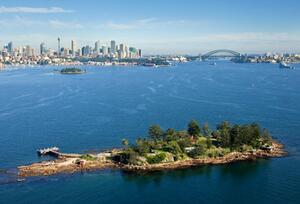 Sydney Harbour has been described by numerous people as "the most spectacular harbour in the world" and there is no doubt its islands are the jewels in the crown!
Over time a number of the islands have been joined to the mainland by human endeavour. However there are still eight islands scattered across this magnificent harbour, of which six are open to visitors.
Goat island and Cockatoo Island can be explored by guided (or pre recorded) tours. In fact, Cockatoo Island is the only Island you can sleep on over night (look at their camping, glamping and accommodation options).
Fort Denison sits in the heart of the harbour and offers a fascinating tour by a National Parks ranger. In addition there is a cafe and restaurant that offer you the best view you could want!
That leaves Shark, Clark, and Rodd Islands. all of which are part of Sydney Harbour National Park. These are all left in a more natural state, with some facilities available for picnics and events (parties and Weddings). The islands offer a great place to relax and offer some great views. if you want a unique place for a party or Wedding venue then ask National Parks about hiring one of these venues for your exclusive use.
We specialise in transferring groups of people and if you are having an event, wedding or party, your catering and event equipment to Sydney Harbour's islands, so H2O are perfectly suited to move your wedding or function to where you need to go - just call 1300 420 829. See here for current details and rates of our function transport packages
Look at the links below to discover more about the history and facilities on each of the islands.
Email or call 1300 420 829 to discuss your requirements.
The Islands
Click to see a map and further information about each island.