Rodd Island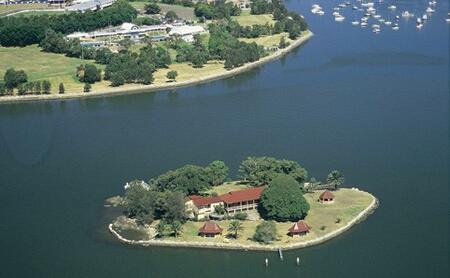 Planning a special event on Rodd Island? Travel with Sydney's best water taxi company H2O Water Taxis on our site visit special, to Rodd Island from either Leichhardt or Birkenhead Wharf at the special price of just $220 for 6 passengers( nb. return price); extra passengers are $22 per person each way.
PLEASE NOTE - SITE VISIT ONLY, MAX 30 MINS
Travel with Sydney's best water taxi company H2O Maxi Taxis, from Circular Quay to Rodd Island in under 25 minutes. We also transfer from all public and private wharves around the harbour.
Rodd Island is a half hectare island, located in Iron Cove off Birkenhead Point near the Sydney suburb of Leichhardt and is named after Brent Rodd who had a long association with the area in the 1800s (and who also has Rodd Point named after him, just to the west of the island).
The island has been reserved, in the main, for public recreation although in the late 1800s it was used as a biological research station under instructions from Dr Louis Pasteur. Pasteur established the research station in response to a £25,000
reward that was offered to solve the rabbit infestation that Australia was suffering. Pasteur was unsuccessful in finding a cure and in the 1890s his facility was demolished and the current Hall was built for public recreational use.
In the early 1900s the two summer houses and gazebo were built on the northern side of the island to further encourage recreational use. Apart from a brief spell as a US army training base, it has been a public recreational area ever since
There are two grassed areas for entertaining . The larger area has the summer houses and toilet facilities and is located on the northern and western sides of the island. Higher up and closer to the landing wharf on the southern side, you have the Hall and a more protected grassed lawn.
There is fresh water and electricity available on the island when privately hired.
The island is an ideal venue for functions. Whether it is your Wedding, an important corporate function or a special celebration, Rodd Island offers the perfect location. Its position means it is the most protected of the harbour islands. Also there is ample free all day parking and great wharf facilities just near Le Montage restaurant, for your guests and caterers to use and embark on their H2O Water Taxi to the island.
Are you holding a wedding or function? Don't miss our Island Function Packages, and great Sydney Harbour wedding ideas.
The island can also be booked for private functions, or you can just pay the $7pp landing fee through National Parks and Wildlife Service on 1300 072 757.