Christmas Party Boat Transfers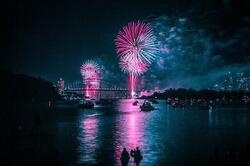 Why drive or take the Sydney Metro to your Christmas dinner – when there's a better way? With Christmas party boat transfers from H2O Water Taxis, you can be picked up or dropped off at any party or restaurant in the Sydney Harbour area – and enjoy a truly one-of-a-kind experience. Learn more below, or book on our website now.
Christmas Party Boat Transfers Are The Best Way To Make Your Night Unforgettable
Whether you've arranged a night out for a Christmas dinner for just a few friends and family members, or you're hosting a large gathering for your church, business, or any other organization, Christmas party cruises and private charters from H2O Water Taxis are a great way to make your event even more festive.
With boat hire services from H2O Water Taxis, you can use our Sydney Harbour cruise vessels to get to your destination in style. Whether you're headed to a restaurant or event centre, you can enjoy the perfect Christmas evening with our Christmas party boat transfer services.
Why Choose Boat Transfers To Get To Your Christmas Party?
Wondering why you should book a boat transfer to get to your next party or event this Christmas? Here are just a few reasons to book with H2O Water Taxis.
Avoid traffic – Why bother trying to take the Metro or park downtown when you can arrive in style on the water? Avoid traffic and enjoy a stress-free arrival at any destination in the Sydney Harbour area.


Enjoy a scenic cruise – Enjoy the lights, peaceful scenery, and unique sights of Sydney from the water, and get you and your party into a festive mood!


Impress party and event attendees – A Christmas party boat transfer is a great way to impress anyone attending your party or event – an unexpected treat that they're sure to remember!
We Offer Affordable Water Taxi Services Throughout Sydney On Christmas
Our pricing includes 10 people in the initial price which is dependent on distance, with extra people charged a flat $15 per person. In addition, we offer a 10% discount for all return bookings – so you can make your boat journey a two-way trip for a lower cost!
With 10 people included in the price, you can book a single vessel for smaller groups. If you have a larger group then our vessels can take extra people with COVID capacities of 27, 32 and 53 people. A Christmas cruise from H2O Water Taxis is a great way to create a fun, festive atmosphere.
Travel Anywhere in Sydney Harbour With Our Christmas Party Boat Transfers
We can offer pick-up and drop-off points at any public or any private wharves (with owners permission) in the Sydney Harbour area, depending on your unique needs – and we allow all customers to choose a return leg to a different destination than the pick-up point, making things more convenient for you and your party.
Contact H2O Water Taxis Online To Arrange Your Christmas Party Boat Transfers
This Christmas, celebrate the season in style with a Christmas party boat transfer or day cruise with H2O Water Taxis. And don't stop there – we also offer cruises and boat transfers for New Year's Eve on Sydney Harbour, Australia Day and much more.
To learn more and book your Christmas party boat transfers online, just contact us online, or feel free to give us a ring at 1300 420 829 to speak with one of our staff members if you have any questions about our services, availability, and other details.