Beach Landings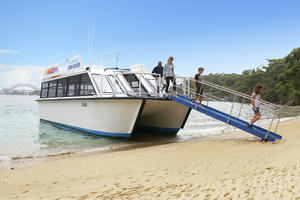 Sydney has some great harbour beaches and with H2O the magic of them is yours to explore! So whether it is for your Wedding, a party, or just a day out, H20 Maxi Taxis can deliver you right onto the beach.
Our largest boat, Colossus, can take up to 68 passengers at a time, so your whole party can experience the fun of landing on the beach! From Manly we can take up to 68 people at a time to either of Collins or Store Beaches. From the City we can take 68 people to Athol Bay and Watson's Bay. If you have a larger party to land we can always arrange to use our other boat, Leviathan, which can take up to 49 passengers and transfer them to Colossus for landing! So start planning you beach party now!!
The beaches we deliver to regularly are:
Athol Beach (for Athol Hall)
Watson's Bay (for Doyle's, Dunbar House and Watson's Bay Hotel)
Collins Beach (near Manly)
Store Beach (near Manly)
If you have another beach in mind give us a call and we will let you know if that is possible.
Why not really have fun and choose a picnic package to go wiith your stay on the beach - speak to our team!
For a quote to drop your party at one of the beaches give us a call on 1300 420 829 (or 02 9817 5333) or email us at