Sydney Barge Hire for Special Events and Film Crews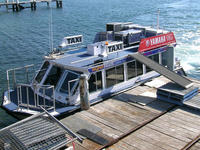 H2O Water Taxis offer barge hire in Sydney for speical events and film crews wishing to transport equipment, crew and other special cargo.
The loading area is 6 metres by 3 metres and can take up to 1 tonne of gear. Please call the office to discuss your particular requirements for the barge rental.
Barge Hire & Rental Sydney
Bookings are usually on a timed basis so please call us for more information: 1300 420 829