Sydney Barge Hire for Special Events and Film Crews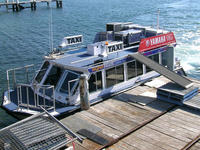 Our vessels are equipped for transport of film equipment, crew and other precious cargo.
The loading area is 6 metres by 3 metres and can take up to 1 tonne of gear. Please call the office to discuss your particular requirements.
Bookings are usually on a timed basis so please call us for more information: 1300 420 829