Watch Sydney to Hobart Yacht Race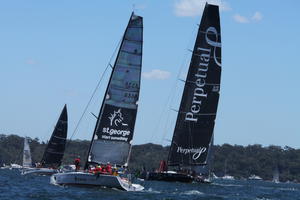 Take a cruise on our water taxis to see the start of the iconic Sydney to Hobart Yacht Race. Book the boat as a group, or buy individual tickets and cruise around Sydney Harbour.
Watch The Start of the Sydney To Hobart Race
Get up close to the Rolex Sydney to Hobart Yacht Race with H2O Maxi Taxis. Manoeuvre around the fleet as they vie for position at the adrenaline pounding start of the most gruelling ocean race in the world!. H2O's water taxis offer the box seat on Sydney Harbour for this magnificent event.
At the starting gun we will follow the yachts as they make their way from the start at Shark Island to the Heads. There we will watch them make their way into the Pacific Ocean and tack south towards Hobart.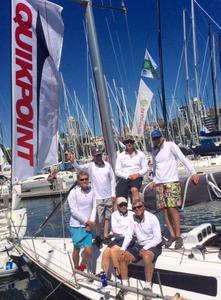 In 2014, our intrepid skipper Shane Kearns took part in his 11th Sydney Hobart aboard his own yacht Quikpoint Azzurro (pictured right at the CYCA and below in the race)!
Having bought the boat as a wreck he restored it in 6 months, to make it race fit for the Sydney Hobart. He got together a crew of old mates and with very little prep time off they went! They did a brilliant job, leading the handicap for substantial parts of the race and finished a creditable 33rd in the overall handicap.
Shane has now said this was just a practice run and he wants us to chase him out the Heads again in 2015! Why not come and join us?!
Why not bring a picnic and enjoy the spectacular Sydney harbour on one of its busiest days! You can book a whole boat for you and your friends or just buy one or two tickets to watch the start of the race with others.
To find out more about our cruise options call us on 1300 420 829 (or 02 9817 1753) or email to discuss your
specific requirements.
Quikpoint Azzuro underway in the Sydney-Hobart Yacht race 2014