Wedding and Function PACKAGE SPECIALS - Shark, Clark, Cockatoo and Rodd Islands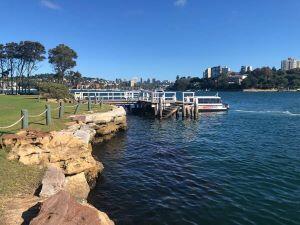 Are you considering a Wedding or Function on one of the beautiful Sydney Harbour Islands? The prospect can be very exciting but the logistics can be daunting. Have you considered your water transport for caterers, food, alcohol, marquee crew, decorators, your celebrant, entertainment, all the guests and VIPs, providing bins for rubbish disposal etc?
Once you have your requirements down on paper you may think you need a barge for the marquee and other large equipment, a ferry for the guests and some water taxis for the VIPs and other miscellaneous transfers. You may have questions such as where do we embark that has parking and easy access for all the guests including the less mobile guests, families with prams etc, that also has easy access to your venue.
Water Taxi Wedding Package Specials
H2O Taxis has the solution to all your water transport needs. For an all up fee of $1,950 (includes up to 50 guests) we will transport all your gear, caterers and supplies and other key personnel out to the island of your choice for an early set up, and then return to bring your guests. We offer another trip for your bridal party. We'll bring your celebrant back after your ceremony and offer a trip for early leavers as well. Of course, we'll return later to bring you all safely back at the end of your special day.
For $2,250 we will transport up to 75 guests. $2,550 for up to 100 guests and $3,300 for 150 guests. Please call for larger events
Special conditions are that we operate from the nearest wharf to the Sydney Harbour Island that you choose. For example, for Shark Island this will be Rose Bay, for Clark Island you have the choice of Elizabeth Bay Marina off Ithaca Rd, Yarranabbe Park off New Beach Rd at Rushcutters Bay or Double Bay Wharf. For Cockatoo Island this will be Greenwich, Woolwich, Drummoyne or Elliott St Balmain. If you choose to have your special event at Rodd Island the nearest wharf is at Leichhardt, outside La Montage Function venue or Dobroyd Point.
Please compare costs. If you are after real value for money with one water transport provider taking responsibility for all island logistics, H2O Taxis has the experience and know how, and of course, the right price. You are dealing with a 100% Australian owned and family operated company, not franchisees or hire drivers. From the time of your first call or email we take full responsibility for the infrastructure water transport support required to make your function a success.
About our Sydney Water Taxis
Our water taxis are the biggest on the Harbour (49 pax and 70 pax), are fully enclosed with panoramic glass windows, comfortable coach style seating and are fully carpeted. Our WaterBus has a 1 tonne equipment carrying capacity on the roof over an area of 6 metres x 3 metres with easy ramp access. Our large vessels feature the extremely safe bow loading method for passengers, so the boats are very stable with no gap between the wharf and vessel. We even have access for most wheelchairs on the 2 big vessels, so we believe we have your water transport needs covered.