Film Work on Sydney Harbour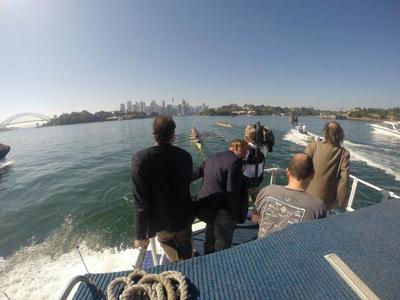 H2O has a great track record of supporting filming on the world famous Sydney Harbour, whether it is motion film or stills photography, it is all about being in the right place at the right time. H2O has worked with a number of leading production companies, TV channels, photographers and logistics operators.
Call us to discuss your project on 1300 420 829 or 02 9817 5333 or email us on
Filming and Transfers
Whether you need a camera boat, equipment transferred by water, crew transferred across the harbour in our water taxis or a safety boat for your water location filming, we have both the vessels and the experience to do that for you. H2O Maxi Taxis have worked on over 60 major projects requiring water based filming and transfers in the last 10 years, with an exemplary track record in delivery.
Sydney Harbour Locations
Location scouts rely on our intuitive knowledge of where to go to get great locations and shots. Whether you are after the natural harbour, city shots from the water, the post-industrial city or the colonial look, we have some great ideas of where and when to go.
Read on, or jump to one of these sections:
Filming On Sydney Harbour
Equipment transfers on Sydney Harbour
People transfers on Sydney Harbour
Safety Boats
Stand-by Boats
Camera Boats
Filming on Sydney Harbour
Whether you are looking to do a live television broadcast, take photographs, make a TV programme or make a feature film H2O has the boats to give you the ideal platform to film on Sydney harbour.
Leviathan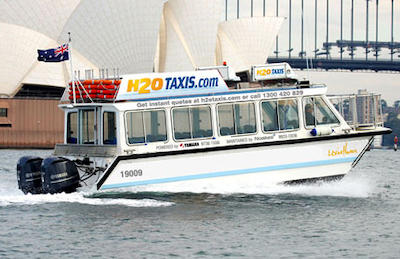 Size
Leviathan is a 10 metre long and 3.5 metre wide cathedral hulled vessel, propelled by twin 350HP V8 Yamahas. The cathedral hull and breadth of the boat mean that it is a more stable platform than the typical monohull design. The boat is shallow hulled so can get in to waters with as shallow as 1 metre deep.
Space
With a generous foredeck, there is plenty of room for the camera man, sound engineer and broadcaster to operate. The roof provides storage space, as well as an area to set up any outside broadcast equipment. The spacious cabin which can seat 32 and stand another 15, provides plenty of room to keep any equipment, paperwork and personal belongings in a weather proof environment.
Colossus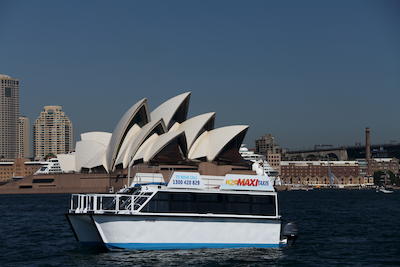 Size
Colossus is a 10 metre long and 4.5 metre wide catamaran vessel, also propelled by twin 350HP V8 Yamahas. The catamaran hull gives fantastic stability, as stable a design as you can get on water.
Space
With a huge foredeck area there is plenty of room for the filming team to operate. The cabin is fully weatherproof and larger than on Leviathan with seating for 53 and standing for 15, so has plenty of space for all equipment and belongings. Also with a roof area of 6 meters by 4 meters, there is no shortage of external storage area.
Skippers
Our skippers have great experience of operating for both live TV and film situations, so where possible, we can get you as close to the action as needed. Also, we have built up an extensive knowledge of the harbour and where to get some great shots for different purposes.
Equipment Transfers by water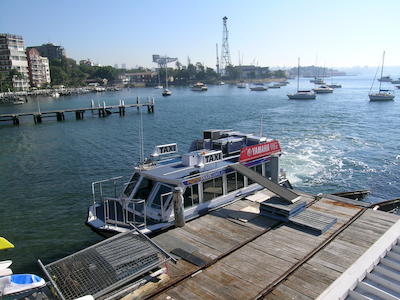 H2O is experienced in carrying all sorts of gear, whether it is an awkward shape, unusually long or a tonne of gear, we can help!
Weight and Size
With a loading area of 6 metres by 3 metres and the ability to carry 1 tonne of gear Leviathan can deal with most requirements. Our boat acts as a barge and is an ideal and flexible way to transfer your gear.
Hire by the Hour
Our maxi barge is also available for hire by the hour, which gives you greater flexibility and enables better budget management for your filming project. However, if you need the boat for a number of hours, we offer discounted and competitive rates for that.
Types of Cargo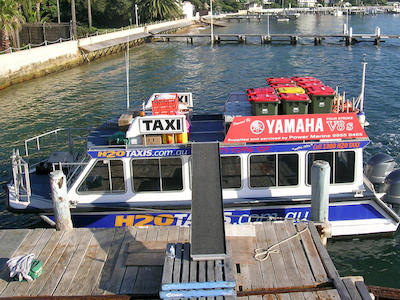 We have a long and varied experience of carrying just about every type of cargo across the harbour. Whether it is bulky, delicate, heavy or fragile we have surely dealt with it, or something very similar! Chandeliers, road cases, camera equipment, chairs, generators, the list goes on, if you can lift it (well OK, if two of you can lift it!) we can barge it across the harbour.
Loading Your Equipment
We load the cargo onto the roof of the boat. We know the best wharves for loading and unloading and can advise you on tide times and the best timing for doing the job. In fact it is possible to load and unload at most wharves, providing the cargo isn't too heavy or bulky. With our loading ramp, the job is made a whole lot easier. Our skippers are experienced in ensuring that your cargo gets the smoothest and driest transfer on our maxi taxi barge.
To Enquire and Book
Whether you want to book with us now or if you are still wondering if we can do it, give us a call on 1300 420 829 or 02 9817 533 or email us on and we can talk you through the possibilities and give you a price.
People Transfers by on Sydney Harbour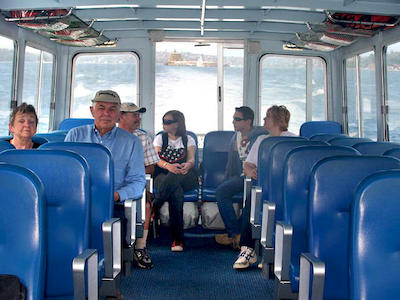 Whether it is VIPs, extras or crew, H2O has the boats and the people to make it a comfortable, safe and enjoyable trip on the water.
The bow loading on our boats means that the transfer from land to water and vice versa, is done safely and effortlessly. Whether its two people or two hundred, we have the comfort and capacity to carry them safely across the harbour in our maxi water taxis. With free wifi and digital TV we can keep you in touch with what is going on. Finally, our competitive rates will ensure your budget is looked after.
Size
Each of our boats can carry around 50 passengers, so transferring large numbers of people on time isn't a problem. We can transfer 110 passengers at a time using two boats. Also, we are expert at doing shuttle runs and organising passengers, so in a short space of time we can move 200 people from A to B.
We are like a mini ferry, but with the ability to get into some of the shallower and tighter wharves at any tide. Our twin V8 Yamahas also give us great manoeuvrability.
Speed
You will be surprised how quick maxi water taxi transfers can be. For instance Manly to Circular Quay can be done in just over 20 minutes – beat that at rush hour! Even Watsons Bay to Circular Quay is an impressive 15 minutes. So if you need to get somewhere quickly our maxi water taxi is the way to go.
Cost
We can offer significant discounts to our Journey Quote calculator prices for large commercial transfers around Sydney harbour. Phone 1300 420 829 or email
Use our Instant Quote to see how quickly we can transfer passengers between wharves on our water taxis.
Safety Boat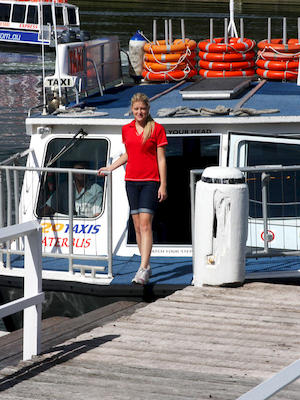 If you are filming on any of the Sydney harbour Islands, or just right by the shore, it is good OH&S practice to have a safety boat available in case of an emergency. Whether it is a medical evacuation, a fire evacuation or a personal emergency, H2O's professional skippers and first class boats are ideal to service these situations.
Capacity
With both boats having a capacity of at least 49 people, one water taxi has the capability to cover all these situations.
Rates
We offer competitive rates to cover these essential situations. Call 1300 420 829 to get a quote.
Stand-by Boat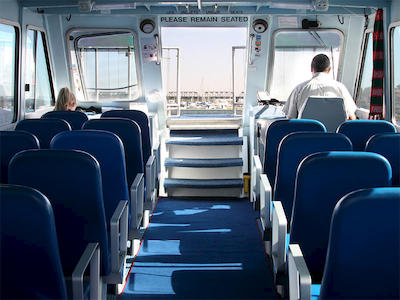 With filming it is often critical that the production crew or VIPs have the comfort of knowing they can move off at any time. We can offer our boats on a stand-by rate which is calculated assuming they are only needed for the unexpected situation.
Speed
You will be surprised how quick water taxi transfers can be. For instance Manly to Circular Quay can be done in just over 20 minutes – beat that at rush hour! Even Watsons Bay to Circular Quay is an impressive 15 minutes. So if you need to get somewhere quickly our maxi water taxi is the way to go.
Communications
Also, with our free wifi and digital TV on board your VIPs wont lose touch with vital communications whilst on their transfer.
Camera Boats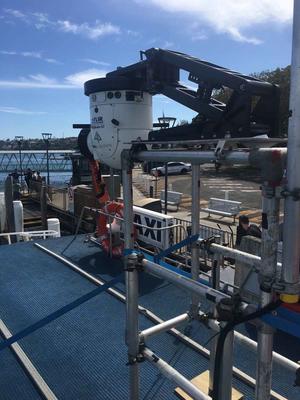 Do you need to do some filming on the harbour? Whether it is stills photography, feature films, live broadcasts, using a drone or some other project, we have the boats and the skippers to make sure you get the bests shots possible!
We have preferred supplier status with a number of companies for filming projects on the harbour. Over the years we have built a wealth of experience in filming sporting action on the harbour as well as TV adverts, documentaries and other projects. This means that we can help capture the best shots by using our accumulated knowledge, as well as respond flexibly to requests to change position, or location.
Our boats have great stability,enabling you to capture the best shot. Leviathan has a cathedral hull design, with three hulls giving good stability. Colossus has a catamaran hull, which is recognised as the most stable design for a boat. Powered by twin 350 Horse Power V8 Yamaha
engines , both boats can keep up with the action as well as offering exceptional manoeuvrability.
We have the only water taxis that are in survey to carry loads on the roof. This means that we can have your outside broadcast equipment out of the way whilst you organise and film the takes. Alternatively, if you need a launchpad for your drones the large open roof spaces on both our taxis are ideal areas to do this from. With broad stable boats, we can meet just about every demand you have!
We have experience of filming from just an hour to all day (for several days!). Our rates offer value for money, why not call to discuss your project.
Call us to discuss your project on 1300 420 829 or 02 9817 5333 or email us on .