Vivid Festival by water taxi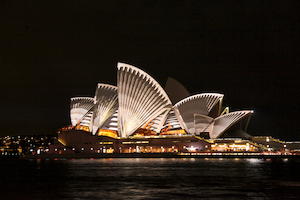 Vivid is an annual event in Sydney where light and art come together to create some spectacular images. In 2023 the Festival is running from Friday 17th May to Saturday 17th June. The lights are turned on at 6pm across the Harbour and City and stay on until 11.00pm, so there is plenty of time to enjoy the spectacle!
2022 promises to be a great year! The Botanic Gardens and Taronga Zoo will both be lit again (you need to pre book Taronga!) as well as all around Circular Quay the Bridge and of course the sails of the Opera House. In Darling Harbour there will be the water music and light display every evening and at Barangaroo there will be a light walk around the new towers. With 2.1million visitors last year, catching a private cruise in a water taxi is a chance to escape the crowds!
We will be operating 20 minute cruises from Circular Quay - Look out for our signs!