Sydney Harbour Bridge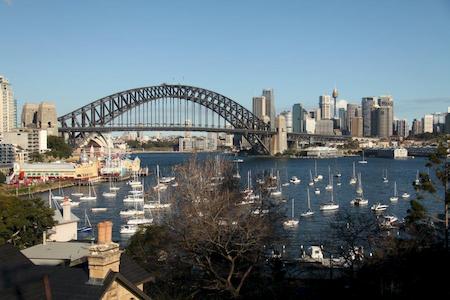 Since construction finished in 1932, many famous boats have passed under the majestic arches of Sydney Harbour Bridge. What better way to follow them than by water taxi?! Take your harbour tour at sunset for a memorable journey while your skipper imparts stories of the bridge's history.
Some highlights from the bridge's history:
On May 26, 2000, more than 250,000 people walked across Sydney Harbour Bridge in support of Indigenous Australians.
One of Australia's well known celebrities, Paul Hogan, was one of the painters contracted to give the Bridge another 270,000 litre coat of paint. The Australian phrase "its a Sydney Harbour Bridge job" refers to how long it takes to paint the bridge. You start at one end and paint to the other, then gather your pots and go back and start again.
BridgeClimb started in 1998 and attracts tourists and locals alike to climb the monument. After climbing through catwalks and up ladders and stairs, the view is absolutely breathtaking. There are day, twilight and night climbs and a group of twelve will leave for a climb every ten minutes.
Tie in your very own BridgeClimb to your private harbour tour. Contact us to discuss your tour ideas.