Sydney Opera House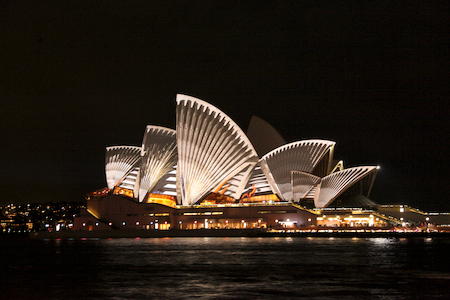 The Sydney Opera House is situated right on Sydney Harbour with views to the city and is arguably the second best view point for Sydney Harbour Bridge. The best would have to be from one of our boats!
Its position makes it ideal for a close look by water taxi. It is only from the water that you can best take in the 'sails' of the Opera House that give the Sydney Opera House its world famous shape.
Famously, Architect Jørn Utzon has never visited his creation in protest over changes made to his design during its construction. Nevertheless, it was opened in October 1973 and has since come to be known as one of the wonders of the modern world. Recent works have sought to restore aspects of Utzon's original design.
Frequent tours take place through the Sydney Opera House and cover its history, architecture and the inner workings of what must be the most original theatre in the world. With our private water taxi tours you can arrive by boat for your Sydney Opera House tour then continue afterwards for visits to the many other famous landmarks in Sydney Harbour.
Begin your dramatic evening at the Sydney Opera House with a trip across the harbour by water taxi. The Sydney Opera House is the home to:
The Mikado
The Australian Ballet
Australian Chamber Orchestra
The Bell Shakespeare Company
Ensemble Theatre
Musica Viva Australia
Opera Australia
Sydney Dance Company
Sydney Festival
Sydney Philharmonia Choirs
Sydney Symphony
Sydney Theatre Company
The Sydney Opera House is the cultural heart of Sydney and is an international symbol of Australia. What better way to see this than by water taxi.