Shark Island - Aboriginal Name Bo-a-millie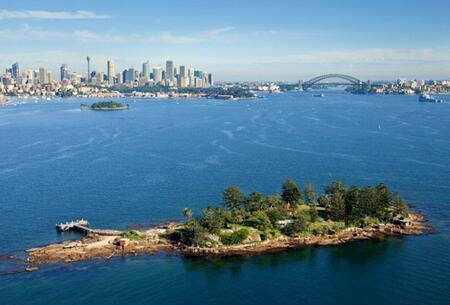 About Shark Island
The local Gadigal tribe called the island Bo-a-mbilly. The European name comes from the shape of the island, rather than the inhabitants of the surrounding waters! Up until 1975 Shark Island was used as an animal quarantine area, public recreation reserve and naval storage depot. Since then, it has been part of the Sydney harbour National Park. It is a great vantage point for the Sydney Hobart Yacht Race that is held on Boxing Day every year.
About 1.5 hectares in size, it is the second largest island on the harbour after Cockatoo. Shark Island has running water, picnic shelters, a gazebo, large grassed area and a wading beach. It also has the best views of Sydney Harbour Bridge and the Opera House! It is a very popular venue for big events like Sail GP and on New Year's Eve.
This is the best island for a large party or wedding. It is very close to rose Bay (about 5 minutes by boat), where there are the best facilities for transporting equipment and catering tot he island, as lorries can pull up right next to the wharf. Also there is paid parking available at Lyne Park, just a minute's walk from the wharf. If you want the Harbour Bridge and Opera House as your backdrop this is the Island for you!
Are you holding a wedding or function? Don't miss our Island Function Packages, and great Sydney Harbour wedding ideas.
The island can also be booked for private functions, or you can just pay the $7pp landing fee through National Parks and Wildlife Service on 1300 072 757.