Vivid Festival by water taxi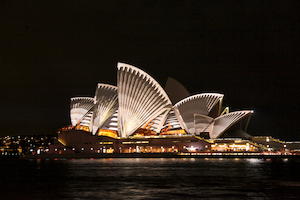 Vivid is an annual event in Sydney where light and art come together to create some spectacular images. In 2016 the Festival is running from Friday 27th May to Saturday 18th June. The lights are turned on at 6pm across the Harbour and City and stay on until Midnight, so there is plenty of time to enjoy the spectacle!
In 2014 there were over 50 different light installations around the city and 2015 was bigger still! In 2016, the Botanic Gardens are celebrating their 200th Anniversary and Taronga Zoo its 100th Anniversary and both will have their own light installations.
This year you can book the following cruises with H2O:
½ Hour Vivid Lights Cruise, takes in the lights of the Harbour Bridge Opera House, Museum of Contemporary Arts and the other lights of Circular Quay. This is a magical way to see this spectacular display and grab some great photos!Cost is $220 for the private hire of a boat for up to 20 people That's only $11pp for you and your friends/family!
1 Hour Vivid Harbour Cruise – This gives you the chance to spend more time exploring the harbour lights, in particular the spectacular lights of the Harbour Bridge and Opera House and you can decide where else you want to see! Cost is $385 for up to 20 people, for the hour. That's only $19.25pp for your whole group!
These prices are for Central Harbour pick-ups around Darling Harbour, Circular Quay, Milson's Point and Kirribilli. We also offer great rates for your group from Watsons Bay, Rose Bay, Double Bay, Mosman, Longueville and other areas, so you can avoid the traffic of central Sydney!
You are welcome to bring your own drinks and snacks on the boat for the cruise, but we do ask you take your empties with you.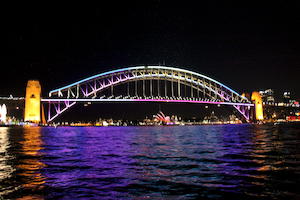 TO BOOK YOUR OWN PRIVATE VIVID CRUISE CALL 1300 420 829